St Kitts and Nevis: Prime Minister of St Kitts and Nevis- Dr Terrance Drew, held an interaction with influential world leaders during his visit to London for the Coronation of King Charles III. He outlined his vision for the overall development of the citizens of the Federation. 
During his meetings with world leaders, PM Terrance Drew reiterated his commitment to the growth of the different sectors, such as the education, health and tourism sectors of the Federation. While attending the breakfast on May 5 in London, PM Drew met with leaders as the event was organized for Small Island Developing States by the UK Foreign Office to extend support for SIDS. He was accompanied by Governor-General Dame Marcella Liburd, GCMG, JP. 
He also held an engaging interaction with the Under-Secretary of State for Americas and Caribbean, David Rutley MP and Graham Stuart MP, Minister of State for Energy Security and Net Zero and outlined his vision and plans for turning St Kitts and Nevis into sustainable small island states.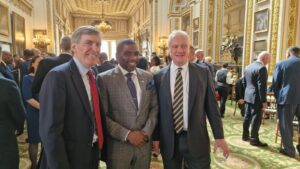 PM Terrance Drew also asked for significant partnership and support from the world leaders and stated that they are efficiently working on the plans to move the country forward without the limiting concept of Gross Domestic Product (GDP) per capita. He also asserted that projects such as geothermal and expansion of the fisheries within the country have been working great in the country. 
While attending the Church House adjacent to Westminster Abbey after the Coronation ceremony on May 6, PM Terrance Drew met with the UK Secretary of State for Foreign, Commonwealth, and Development Affairs, James Cleverly. The reception was hosted by the UK Foreign Secretary. PM Drew was accompanied by Governor-General Dame Marcella Liburd, GCMG, JP, and the Minister of Foreign Affairs, Dr Denzil L. Douglas. 
He also met with an official of the United Nations and held a brief meeting with him on the universal care approach of St Kits and Nevis. He also asked for support from the UN in uplifting the health sector so that people can get easy access to the facility of health within the Caribbean. 
High Commissioner Kevin Isaac introduces President Ruto of Kenya to Prime Minister Dr. Terrance Drew and Minister of Foreign Affairs Dr. Denzil Douglas.