The
Dominica
government is adamant about revolutionizing the country's housing and urban development sector; hence, the housing initiatives have been carried out around the nation.
The mission to provide a decent home for Dominican families aptly represents a beacon of hope in developing sustainable and resilient housing communities, which the Citizenship by Investment Programme directly funds.
Construction works are already taking pace via primary partners and stakeholders for several housing projects in Scotts Head, Eggleston and Canefield. Adding to the roster of successful projects by MMC
Development
Ltd., will be the brand-new integrated community of Grand Bay Ville.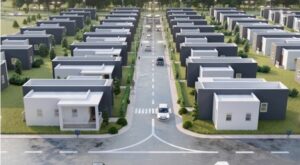 Grand Bay Ville Housing Development is a ground-breaking contemporary, master-planned concept. More than 100 standalone houses, 29 empty plots for future construction, and more than ten houses for complete renovation and modernization will fill out the scenic surrounding of the development.
Most of the housing units will have three bedrooms, two toilets and bathrooms, a kitchen, a dining area, a living room, a laundry area, along with a porch.
Apart from beautifully designed houses as well as scenic views are major facilities and amenities like a commercial square consisting of 22 shops, a gas station, a magistrate house, a regional fire station, a community centre, and a church. Additionally, it will provide sports facilities as well like basketball courts, recreational spaces and pocket parks.
Moreover, the community's security is completely ensured with the all-time presence of the renovated and modernized police station providing 24/7 services to the public.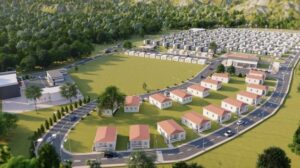 Just like all the other projects that MMC Development Ltd. has undertaken, the substructures and superstructures will follow the highest resiliency standards- reinforced concrete, shatter-proof windows, and underground utilities to battle the foul weather conditions as well as natural calamities.
The 25-acre enclave will be a model community for the entire Caribbean region. The fully integrated community will be a model to imitate. Grand Bay Ville will provide houses to the people of the nation who have been affected by Hurricane Maria.