The leading advisory and marketing firm- CS Global Partners has recently released the World Citizenship Report 2023, ranking over 188 nations on the basis of five key motivators elaborating the concept of citizenship for global citizens. The report ranked Denmark, Switzerland and Finland ranked on the top three positions.
Notably, WCR investigated the value of citizenship through the point of view of the global citizen as well as it seeks to go beyond the conventional measures of a citizenship's power by ranking them on the basis of the needs, wants, requirements and desires of the current and future global citizens of the world.
WCR has provided extensive information about the measures that it has added in its report, including the five motivators which it has kept in mind while ranking the 188 nations.  Notably, the motivators not only focused on providing the solution, but it has also highlighted the salient features, which any global citizen is looking upon to. The motivators includes Safety and Security, Economic Opportunity, Quality of Life, Financial Freedom and Global Mobility.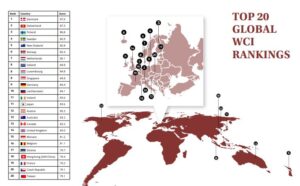 CEO of CS Global Partner Micha Rose Emmett, while mentioning the World Citizenship Report, noted that "In the 2023 edition of the WCR, we took a unique look at the needs of global citizens, because one's nationality and the rights enjoyed and the responsibilities required, should be considered from a personal perspective."
It is well understood, that citizenship is a route of ensuring that individuals have the freedom to take part in society and to pursue their own goals and aspirations without undue hindrance and oppression.
Meanwhile, CEO Micha Rose Emmett has also added that the common goal of all global citizens is 'Freedom.'
"What that freedom means for each person is different and depends on their personal circumstances. Someone living in a country that restricts their rights, self-expression or religious freedoms may seek the freedom of expression and the freedom from discrimination. A person living in a nation with limited basic services may covet the freedom to access better healthcare, education, and social welfare programmes. Individuals experiencing limited economic opportunities face barriers to employment or business opportunities and have an increased interest in financial freedom,"
CEO Emmett further linked the concept of freedom to Maslow's Hierarchy of Needs. Noting which, she said, "Individuals may feel that they do not have access to basic necessities like food, water, shelter, or healthcare in their home country. They may also feel unsafe or experience violence, discrimination, or persecution that prevents them from feeling secure. In some cases, individuals may feel a lack of belonging or connection to their community or may face limitations in their opportunities for education or employment, which can hinder their ability to satisfy their esteem or self-actualisation needs. Regardless of the level of Maslow's Hierarchy, a person's state of nationality may directly affect the level on which they exist. If an individual is unable to satisfy these needs in their home country, it may very well be the catalyst for people to decide to invest in a second citizenship and/or immigrate to a new country."
"Denmark received an overall score of 87.6, the highest rank. The nation received the highest score in the Financial Freedom motivator with 84 points and ranked second in the Quality of Life motivator with a score of 90.6."
"Denmark is generally considered to be a free country with high levels of political and personal freedom. Denmark is a democratic country with a constitutional monarchy, where the people have the right to vote and choose their own leaders. The Danish constitution protects a number of fundamental rights, including freedom of expression, religion, and assembly. Denmark is also known for its strong welfare state, which provides a high standard of living and social protections to its citizens. In terms of economic freedom, Denmark has a mixed economy with a high degree of government involvement. However, Denmark is consistently ranked as one of the world's most business-friendly countries, with a strong and stable economy. Overall, while there may be some limitations or challenges to freedom in Denmark like any other country, Danes generally enjoy a high degree of personal and political freedom," the report highlighted.
The Report have further explained the five motivators which is as follows:
Safety and Security
Ability to enjoy greater social safety and security for oneself and the family
Safety net against being trapped in territory with civil disorder
Economic opportunity
Ability to access the greatest business hubs across the world
Increased access to better employment prospects and business opportunities
Quality of Life
Having an access to territories with higher social and institutional stability
Higher standards of education and healthcare
Global Mobility
Empowering greater freedom to travel whether for leisure, lifestyle or business
Insurance policy to enable travel for medical, safety, or environmental crises
Financial Freedom
Protecting assets from government overreach via geographical diversification
Facilitating wealth planning in a more tax-efficient manner
Notably, in the very first motivator of safety and security, Iceland has bagged the 1st rank with overall score of 95.8, and on the strict contrary, Afghanistan has bagged the 169th rank with only 19.3 scores.
Whereas, the second motivator Economic Opportunity, which has focused on the business as well as economic opportunities that are being provided to the global citizens. Under this motivator, Singapore bagged the topmost position with 95.8 score, and Somalia bagged the last rank with an overall score of 30.0.
At the same time, in terms of third motivator Quality of Life, it differentiates the respective nations on the major principles which makes any citizenship as the desire for the global citizens. Under this motivator, the top rank has been bagged by Monaco with an overall score of 90.9 points and Somalia have bagged the last rank with an overall score of 35.8 points.
Moreover, in terms of Global Mobility motivator, which directly empowers the freedom to travel, whether for leisure, lifestyle or business. Japan has secured the topmost rank with an overall score 88.9 scores, and Afghanistan has secured the last rank in the list with the scorer of only 9.0.
In terms of Financial Freedom, which directly links to the points of providing a financial freedom to the global citizens. Noting to which, Denmark has bagged the topmost position with an overall score of 84.0 and the last position has been acquired by Somalia with a score of 16.0.