The Prime Minister of Pakistan, Shehbaz Sharif, has laid the foundation stone of the 1200 MW Chashma Five nuclear power plant in Mianwali. The details of the following has been shared by the Prime Minister Shehbaz Sharif himself via his official social media handle.
It is to be noted that the efforts made by Prime Minister Shehbaz Sharif led-administration, not only the cost of the Chashma Nuclear Power Plant Unit-5 (C-5) has been reduced but its capacity has also been increased from 1100 MW to 1200 MW. The Chashma-5 deal was inked in 2017 and has been delayed for the last 5 years. In the social media post, it has been added that, "Under Prime Minister Muhammad Shahbaz Sharif's vision of low-cost and environment-friendly electricity in the country, work on this project is being resumed."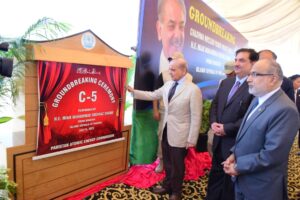 During the ceremony, Prime Minister Shehbaz Sharif held meeting with the guests, especially Chinese dignitaries and also signed a commemorative plaque. On this occasion, Chinese officials were also present in addition to Federal Ministers Engineer Khuram Dastgir, Ahsan Iqbal.
At the same time, Prime Minister Shehbaz Sharif has also delivered the address. while addressing the ceremony, PM Sharif said that, "the history of cooperation between Pakistan and China in the field of nuclear energy is thirty years old. This mutual cooperation for the promotion of environmentally friendly, efficient and competitively affordable energy is a great success, a sign of great friendship and worthy of imitation for other countries."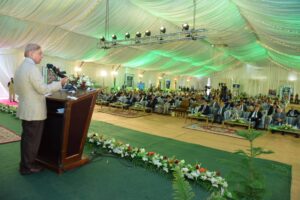 PM Sharif said that, "The Chashma-5 nuclear power plant will be completed in the next seven to eight years at a cost of three and a half billion dollar." Ha also emphasized on reducing the period of installation of the power plant and said that, "this initiative will be a great support for the people of Pakistan. It will prove."
Meanwhile, the Director of Affairs of the Embassy of China, Pang Chunxue, speaking on the occasion, said that, "More than 10,000 employment opportunities will be created for local people with Chashma Five nuclear power."
At the same time, the Chairman of China National Nuclear Corporation said that, "our cooperation in the field of nuclear energy is an important part of China-Pakistan's evergreen strategic partnership and a shining example of global nuclear cooperation."