St Kitts and Nevis is rightly considered the ultimate destination for Citizenship by Investment by many around the world, but those aren't just unwarranted opinions. The CBI Index 2023, which is every candidate's guide to the program, has ranked St Kitts and Nevis at No.1 once again.
Intriguingly, St Kitts and Nevis maintains its stature and standards in the industry, despite being the smallest sovereign nation in the western hemisphere, by both size and population. It also happens to be the sole federation among the long list of CARICOM nations.
The CBI program offered by St Kitts and Nevis is the oldest one in existence, having been introduced in 1984. This program has subsequently earned multiple awards and laurels over the years through careful modifications, considering the needs of the time.
As a result, the St Kitts and Nevis's CBI program has a long-standing reputation as the industry standard in Citizenship by investment. This is apparent in the fact that they have led the market in economic investment for almost four decades now, a remarkable achievement.
An interesting option provided by St Kitts and Nevis's CBI program, is Sustainable Island State Contribution (SISC)- The SISC fund is an ingenious option which is geared towards the development of the nation's society, economy and general infrastructure. The minimum bar for investment is set at US$250,000. A reasonable amount, all things considered.
If we consider individual pillars, St Kitts and Nevis performed quite well in most categories. Here is a rundown of the scores for each pillar: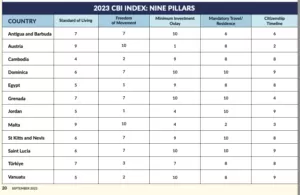 PILLAR 1: Standard of Living- This includes, but is not limited to, the standard of comfort, wealth and availability of material goods. Life expectancy, freedom, Gross National Income, human security, GDP growth and expected years of schooling are important factors. In this year's index, St Kitts and Nevis, occupied the third place with a score of 6. St Kitts and Nevis outdid competitors in the GDP Growth measure.
PILLAR 2: Freedom of Movement- Based on three important factors, namely; the number of prime business hubs to which it provides access; the number of destinations to which a country's passport allows travel without restriction; and the degree to which a given citizenship provides settlement rights in other nations.
The number of countries which become accessible with citizenship, on a visa-free and visa-on arrival basis is also a very significant factor in this regard. St Kitts and Nevis came in at second place with a score of 7. Incidentally, Caribbean countries in general have managed the same score. That comes as a welcome surprise, since speculation was rife due to the recent focus on their visa free status which was put under pressure by the US, EU and UK authorities.
PILLAR 3: Minimum Investment Outlay- This pillar helps potential investors understand the minimum amounts that make them eligible candidates for the CBI programme of a particular nation. Understandably, high minimum investment outlays can become a hinderance in some cases. St Kitts and Nevis shares the second spot with a score of 9, along with Cambodia and Egypt.
PILLAR 4: Mandatory Travel and Residence- An in-depth assessment of the travel or residence conditions that applicants are expected to fulfill, prior to and following the approval of citizenship. St Kitts and Nevis achieved a perfect 10 score.
PILLAR 5: Citizenship Timeline- This pillar gives a detailed assessment of the average time span a particular nation's CBI programme requires to grant citizenship. In this category, an indicator ranging from less than 2 months to more than 30 months is used to assess the standing of a nation. St Kitts and Nevis, takes the second spot with a healthy score of 8. Having said that, it is important to note that St Kitts and Nevis has dropped from the top spot which it occupied in the previous year's index. This development has occurred due to its decision to increase the nation's CIU processing times to 120 days and rescinding its 'accelerated CBI application' option in July 2023.
PILLAR 6: Ease of Processing- In simple terms, this pillar assesses the level of complexity involved in the entire process of applying for citizenship under a specific program, from the application process till the approval of citizenship and beyond. St Kitts and Nevis takes the top spot, with a score of perfect 10. This is a testament to the ability of their programs to balance the administrative demands of the application process with quick and efficient processing system.
PILLAR 7: Due Diligence- The ability of each nation to facilitate a transparent and effective evaluation of potential candidates for citizenship. In this category, St Kitts and Nevis retains the top spot as the only nation with a score of 10. This can be attributed to the CIU's changes, as part of a rapid implementation of the 'Six Principles', which include mandatory interviews and measures to stop financial irregularities in the real estate option to safeguard the programme's reputation.