Web Desk — More people are using Google to look up the phrase "World War 3" than ever before, the online giant has revealed.
Searches for the terms "Trump War" and "Nuclear War" have also soared during the past few weeks as global concern appears to rise over Syria, North Korea and Afghanistan, as per a report.
---
Google searches for "World War 3" and "Trump War" hit all time high https://t.co/2m5iG9BAO1 pic.twitter.com/Csd1CuXknl

— HuffPost Tech (@HuffPostTech) April 15, 2017
---
Google began tracking enquiries on its search engine in 2004. The graph below demonstrates how the above mentioned phrases have fared since then: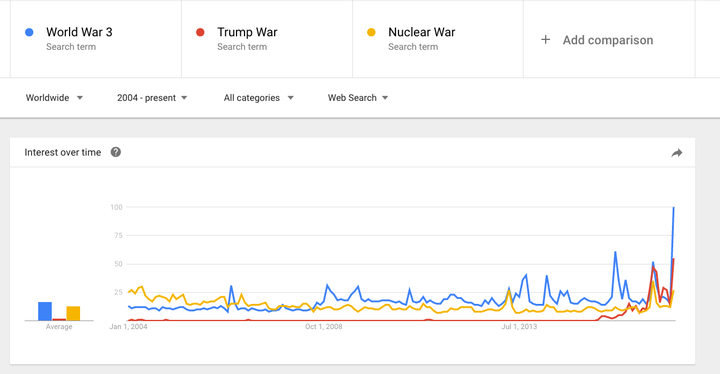 The escalation in war-related searches comes just weeks after President Donald Trump took office, and follows several developments in American foreign policy.
On April 6, the U.S. launched 59 missiles toward a Syrian airfield in response to a chemical attack that Syrian President Bashar Assad allegedly ordered. Two days later, a Navy strike group moved toward the Korean peninsula, reportedly over concerns over North Korea's weapons program.
ALSO READ:
US Vice President to visit South Korea as War with North Korea seems imminent
-Huffington Post